San Quintin to Guerrero Negro
254 Miles, 5 or 6 hours
NOTE: Guerrero Negro is NOT a point-of-entry a tourist visa (FMT) is necessary to enter Baja California Sur. You need to get your tourist visa (FMT) at your point of entry into Mexico. The new El Chaparral crossing in Tijuana makes this easier than before.
Mile 0.0
The bridge at puente San Quintin
Mile 2.1
Community of Lazaro Cardnas with Hotel Real del Cora. Motel Romo and a military base. Just past the base, turn right to visit the oyster farm on Bahia Falsa where the water have been certified for the growing of cultivated oysters year around. The scenic 9-mile drive along a dirt road winds past farmlands and volcanic cones, and is especially rewarding for those who desire to purchase a few dozen oysters fresh from the sea.
Mile 4.4
Graded road west to Old Mill Motel, (Molino Viejo), Old Mill Village RV park and Don Eddie's Landing Motel, (3 miles) on Bahla San Quintin.
Mile 6.2
Graded road west to San Carlos Motel at the Old Pier Restaurant (Muelle Viejo).
Mile 6.9
Highway turns inland over bridge. Follow "El Rosario/Guerrero Negro" sign.
Mile 10.5
Rough paved road west to Hotel La Pinta and dirt road to Rancho Cielito Lindo Motel and RV park (2.5 miles) on Bahia Santa Maria.
Mile 12.5
Junction with old road, (Santa Maria), back to La Pinta and Cielito Lindo.
Mile 13.5
Turnoff west to El Pabellon RV Park, (1 mile), on the beach.
Mile 18.4
Turnoff west to Rancho El Socorrito, (1 mile), with size-able American community and primitive beach camping. The area is known for its windsurfing and good clamming.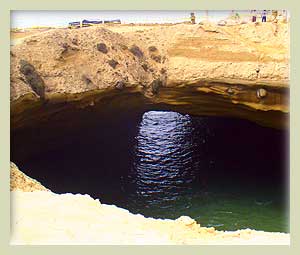 Mile 18.9
Turnoff to Playa del Socorrito with primitive beach camping, (.5 miles). Km 25. Here you will find La Lobera near Playa del Socorro. It is a collapsed sea cave and a sea lion haunt, one of its kind on the west coast, 3 miles from Highway 1
Mile 22.1
Valle Tranquillo RV Park and Campground near Km 30.5
Mile 30.0
The road turns inland and the view of the Pacific Ocean is Lost.
Mile 36.2
The highway descents into a stark canyon with a unique sedimentary character, which has yielded important fossil bone discoveries. Caution! Sinuous curves.
Mile 38.4

El Rosario at the 24 hour Pemex station. (Note the next reliable supply of gasoline may be 200 miles away). Motel El Rosario and Mama Espinoza's Restaurant with considerable history, (Anita Espinoza opened its doors in 1930, today Anita is almost 104 years old ); cabanas and a small campground are nearby.
The next Pemex station is in Villa Jesus Maria, (Mile 232.5), just short of 200 miles. Catavina (Mile 112.2) 80 more miles, has gasoline from 3rd parties expect to pay around $1.50 more per gallon from 3rd parties.
Mile 39.0
Office of the Delegacion, police station.
Mile 39.2
Dirt road on the left leading to the first site of Mision de Nuestra Senora del Rosario de Vinadaco, about 500 yards.
Mile 39.4
Sinai Motel and RV Park
Mile 43.0
Highway crosses a bridge over the broad Arroya del Rosario. The desert character of Baja begins to form in a spectacular profusion of cacti and other desert plants. Over one hundred species have been reported, three fourths of which are found in no other areas of the world.
Mile 48.0
The first cirio tress appear. Also known as "boojum" trees, these odd looking plants grow nowhere else in the world. They are identified by their tall trunk that taper to a point, somewhat like inverted carrots. The larger plants have whip-like limbs that curve in grotesque fashion
Caution: tight curves ahead.
Mile 54.1
Rough dirt road leading 40 miles to Punta San Carlos, popular with surfers and windsurfers.
Mile 69.2
Rancho El Descanso, small cafe, llantera, and emergency phone. As more ranches appear be, be alert for livestock wandering along and across the highway.
Mile 77.0
Rancho El Progreso with cafe and emergency phone, and turnoff for the adobe ruins of Mision San Fenando de Velicata, the only Franciscan mission in the state of Baja California, founded in 1769 by Fray Junipero Sierra. The 3 mile 25 minute drive is OK for sturdy passenger cars.
Mile 78.1
Rancho Santa Cecilia. A highway sign designating a ranch means that it is a working ranch with people residing there.
Mile 83.7
Dirt road on right to the fishing village of Puerto Santa Catarina (33 km).
Mile 91.4
San Agustin with bus stop and trailer park.
Mile 93.6
Turnoff east on graded road to El Marmol (15 km) a large onyx bearing quarry that was abandoned in the late 1950s because of the drop in demand for the gem. The landscape near the quarry is strewn with half-ton chunks of onyx and several deep, uncovered shafts. Interesting remains include an old cemetery and a schoolhouse built entirely of rough-hewn onyx. The 10 mile 25 minute trip over a smooth dirt road is easily driven by passenger cars.
Mile 93.9
Loncheria Sonora with overnight RV parking.
Mile 103.0
Highway 1 enters the boulder strewn rock garden area of Las Virgenes, a natural park protected by law.
Mile 105.2
Turnoff on dirt road to Faro San Jose (95 km).
Mile 110.0
Turnoff on left near km 176 for the Catavina cave paintings, thought to have been painted hundreds of years ago by the Cochimies. Drive down to and park near the riverbed. Walk south 70 yards to a well-beaten trail leading upwards (a five minute climb). The cave mouth is to the left of the topmost cardon, where the sign is hidden by an elephant tree. The geometric paintings depicting right colored figures are located on the ceiling of the cave.
Mile 110.5
To the left in the Arroyo de Catavinacita are blue fan palms, a welcome sight in the desert, where they usually mark the presence of water.
Mile 112.2
Catavina, set in a desert garden of unusual rock formations. There are small cafes, groceries, llantera, bus stop, Motel Cabana Linda, an RV park and Hotel La Pinta.
The Pemex is closed, locations for Gasoline are across from the Mission Catavina hotel, One just north of the Mission Catavina hotel. They generally setup around 7AM and stay until after dark. The one north of the hotel has sign by the road east side so if he is not there drive back to his house and get him.
Mile 113.1
Junction with .7-mile paved road to Rancho Santa Ines with several cabana, a camping area and small restaurant. Rancho Santa Ines is the take-off point those wishing to explore the interior and the ruins of Mision Santa Maria de los Angeles, the Jesuit mission found in 1767. From Santa Ines, a difficult 14-mile trail leads to the mission, situated in a picturesque oasis, (4x4 or high clearance vehicle recommended). Expect to hike the last mile.
Mile 119.6
Rancho San Ignacito with a restaurant. The small monument on the west commemorates the completion of the Transpeninsular Highway and marks the spot where North met South in September of 1973.
Mile 122.2
Rancho San Martin with a cafe.
Mile 130.0
El Pedregoso, a prominent landmark formed by a mountainous pile of boulders. This helped guide early travelers of Baja.
Mile 144.9
Turnoff on graded dirt road to Calamajue (60km) Bahia de San Luis Gonzaga (55 km) and other points on the northeastern Sea of Cortes.
Mile 145.8
Rancho Nueva Chapala. To the east is Laguna Chapala, an extensive dry lake-bed. The dunes at the south end are the result of sand blown from the dry lake-bed by prevailing winds.
Mile 175.1
Parador Punta Prieta and junction with the paved federal highway 12 to Bahia de Los Angeles, 41 Miles. The turnoff can be missed by first time visitors, an abandoned Pemex station exists at the turnoff. Parador Punta Prieta has approximately six inhabitants ... Both pemex and diesel are available in Bahia de Los Angeles
Cactus forests, Montevideo cave paintings and Mision San Borja are found off Mex 12.
Mile 183.4
Community of Punta Prieta with cafes, groceries, llantera, and an airport.
Mile 190.4
The highway climbs steeply with a glimpse of the Pacific Ocean from the summit.
Mile 198.6
Turnoff on graded road west to Santa Roslillita (15 km) a fishing cooperative with a picturesque church and many wind generators. The 10-mile, 45-minute drive along a hash washboard road is OK for very study passenger cars, and extremely rewarding for surfers and beachcombers.
Mile 206.4
Rosarito, a small town with limited services east of the highway. Both north and south of the small bridge over the arroyo are turnoffs leading east to Mision San Borja (36 km), founded by the Jesuits in 1762 and completed by the Dominicans in 1801. Built of quarry stone, San Borja is one of the only two intact missions in the state of Baja California. A high clearance vehicle is needed for the 23-mile, 2-hour drive. San Borja is also accessible via the turnoff southwest from the highway to Bahla de Los Angeles.
Mile 223.1
Along the highway, note living fence posts made of datilillo trees.
Mile 232.5
Villa Jesus Maria with a Pemex station, cafes and auto mechanic. A paved road west leads to Ejido Morelos and Laguna Manuela.
Mile 250.1
Road to Guerrero Negro airport, sand dunes and Playa Don Miguelito.
Mile 252.1 28th Parallel. The 140 foot high monument, depicting a stylized eagle, marks the boundary between the northern state of Baja Californa and its southern sister state, Baja California Sur. Be sure to note the time change as you move east from Pacific to Mountain Time. Just north of the monument, which serves as a military base, is La Espinita Restaurant with several cabanas and free RV camping; to the west are Hotel La Pinta and Benito Juarez Trailer Park.
Mile 252.6
Immigration checkpoint and agricultural fumigation at the Inspeccion Fitoagropecuaria station. A Tourist Visa (FMT) is requited for foreigners who wish to travel further south.
Mile 254.0
Bear right at the junction for Guerrero Negro, two miles west, with motels restaurants, Pemex with diesel and full services.
7 Day Weather Forecast: Guerrero Negro